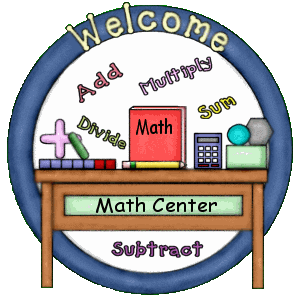 The photos on the pages listed below offer some math instructional ideas.

Updated 7-28-05
Other Math Ideas

Wear costume cards to form patterns or to act out story problems. These are from Box It or Bag It.

Make a reindeer using hand and footprints. Put ten reindeer in a row to practice counting by fives and tens.

Do daily calendar activities to reinforce counting, patterning and graphing skills.

Use a coin mat to make coin trades. Once five pennies are in the one cent column, trade them for one nickel and place it in the five cent column.

Sort the same items in different ways. The attribute shapes were sorted by color in the left photo and by shape in the right photo. We also sorted them by thickness--some were thin and some thick.

A template was used to cover an AB pattern on a quilt block.

Have students walk on the numbers in sequence, kind of like a living "dot-to-dot".

Make unifix cube "trains" to practice counting or to compare lengths.

Play "catch" and name the numeral under your hands (or add the numerals later in the year.)

Reinforce numeral recognition and the characteristics of each numeral by "popping up" a number. Hide it behind something (this is a dry erase board) and slowly slide the numeral up. Can you tell what it's going to be???

Practice number sequencing by "mixing up" numbers in the chart. Begin with only one row and then mix up the numerals 1-20. This girl put the 5 and 6 in the correct place. Then other students fixed the rest of the numbers.



Copyright 2001-2016 LittleGiraffes.com