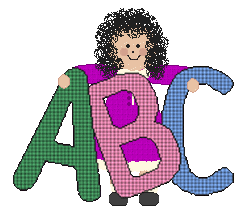 Letters F, G, H, I, J
Updated 7-28-05
Letter F



Celebrate Funny Feet Day by having students wear silly slippers or mixed-up shoes to school.

Follow footprint cutouts to find a "feast"-- a snack beginning with F.

TLC Art Alphabet Book: Page F

Trace each child's footprint and have them cut them out.

Arrange the footprints from smallest to largest.

Use a nonstandard tool for measuring each footprint. Make a collaborative class book after students fill in their name and the length of their foot.

Sort Froot Loop cereal by color. Then use the cereal to complete a graph and practice patterning.
Letter G



| | |
| --- | --- |
| Green Grouches in Gray Garbage Cans | TLC Art Goldfish |
Letter H



Celebrate Hat Day by having students wear hats to school. Read "Old Hat, New Hat" by Jan and Stan Berenstain and "Caps for Sale".

Make a hamburger and French fry snack. Use vanilla wafers for buns, mint cookies for the hamburg and frosting dyed red and yellow for mustard and ketchup. The french fries are potato sticks.

TLC Art Hens

Play the Hamburg game during reading. If the child can read the flashcard, they get to build a hamburger by adding the meat, cheese, ketchup, mustard, lettuce and onion to the bun.

You can see the "bun" in this photo. The top and bottom sections are in one piece and folded.

The winner!

It's Hat Day, in honor of letter H.
Letter I



| | |
| --- | --- |
| | Make the TLC Alphabet Inchworm. Read "Inch by Inch" by Leo Leonni. Use rulers and nonstandard measuring units (unifix cubes, paperclips, etc.) to measure familiar classroom items. |
e
Letter J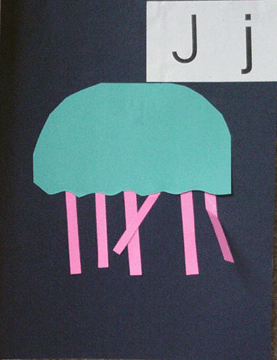 TLC Art Alphabet Book: Page J
TLC Art Jack Be Nimble


Copyright 2001-2016 LittleGiraffes.com